Sorrel's lemony taste makes it a springtime (well, anytime for me) herb favorite. The flavor's a little like rhubarb (to which it is related) only milder and more palatable. I crave and covet sorrel for its exquisite tang, but also because it is one of the first wild edibles I learned to forage in Cancale. It's hard to miss the bright spinach-like leaves with reddish stems (a characteristic of the rhubarb family) that grow along the rocky paths by the sea, and even harder to resist grabbing them by the fat handful when my own, poor sorrel plant is forever getting chomped on by the snails that besiege it at night.
There's just one problem with sorrel. When cooked those gorgeous green leaves take on a yellow-brownish tone which is far less appetizing. Many chefs fix this by using sorrel with another vegetable that stays green—say, spinach or parsley. I get it and I've done it too, but the additions do tend to diminish the savory-sour intensity of the sorrel.
Imagine my thrill then, when I was thumbing through Patricia Wells At Home In Provence cookbook and came across a recipe for "Amazing Sorrel Soup"–so named because of the soups 'amazing' ability to remain bright green. This is thanks to a nifty trick that calls for blending sorrel and butter into a paste a paste that's added just before the soup is served. (Patricia Wells credits German chef Dieter Müller with sharing this stay-green sorrel secret.)
'Amazing Sorrel Soup' does indeed sound amazing…but with a 2 to 1 ration of sorrel to butter and a full cup of heavy cream added at the end, it also sounds a touch too rich for my taste. So, I set about slimming it down. I cut the sorrel/butter ratio to 3 to 1, eliminated the cream altogether, and used water instead of stock. The end result was an intensely flavored soup that I polished off too quickly to see if it really tasted good cold, as Patricia Wells said of her version.
There is more amazement to mention, however. As you'll see below, the soup remained bright green even after a day in the fridge and some intense reheating. No tricks, no gimmicks. I left in the half-submerged ladle as proof I didn't style the photo—except to add a few fresh sorrel leaves on the side so I could say, 'See! The soup really does stay as green as the leaves!'
Soup Base
1 small onion or leek (white part), chopped (1/2 cup)
1 Tbs. butter or olive oil
1 small clove garlic, minced
1 medium baking potato or ½ lb. (8 oz.) Yukon gold potatoes, peeled and diced
3 cups water or broth
Sorrel Paste
4 cups sorrel leaves (3 oz./90 g.), stems trimmed
2 Tbs. (1 oz./30 g.) softened butter or olive oil
SAUTE the onion or leek in butter or olive oil in a medium saucepan 3 to 4 minutes, or until softened. Stir in the garlic, then add the potato and water. Season with salt and pepper. Cover, and simmer 20 to 25 minutes, or until the potato pieces are very soft.
MEANWHILE, MAKE the Sorrel Paste. Pulse the sorrel leaves in a food processor until finely chopped. Add the butter or olive oil, and process until a smooth paste forms.
PUREE the soup with an immersion blender until smooth, then stir in the sorrel paste. Adjust seasonings, and serve hot or cold. Alternately, add the soup directly to the sorrel paste in the food processor, and blend everything until smooth. Adjust seasonings, and reheat, if necessary.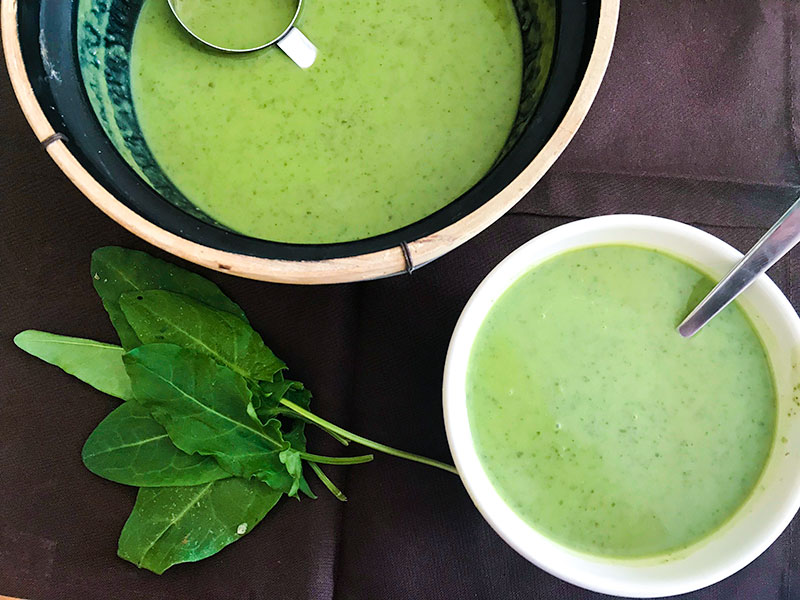 Still pretty green the next day.